Celebrate with me my first book launch of 💜 Significant Women: Leaders Reveal What Matters Most 💜 now available for download and in paperback on Amazon.
I feel honoured to be featured alongside 21 accomplished, courageous and inspiring women from around the world. In this collaborative book project I contribute with my personal story "My pain became my purpose". Uncovering the meaning of my pain, what it is and where it comes from as well as learning how to use it in a positive way helped me to find my purpose in life, my north star. It is to shine light on others, to illuminate the path for them, for my clients, their brands, my friends, so they can shine and be in the spotlight. This is my sweet spot!
This book is for ambitious women – and men – who seek to have a big impact on the world while also being true to themselves and their values. 
All proceeds go to Elimu Girls. It is a program that empowers Her to become community leaders and entrepreneurs ensuring financial freedom, self-worth, and equality. Help us empower Her with purchasing our book! Your  contribution will make a significant impact on Her life!
Writing this book was a life-changing experience! I am deeply thankful for this opportunity of having worked together with all these courageous women to share, and some of us for the 1st time including myself, our story of personal transformation, how the past has shaped us to become what we are today!
PS: I have published academic works already, but a book chapter contribution was my 1st, definitely not the last … 💜
#leadership #womenleaders #mystory #femaleleadership #significantwomenbook #personaltransformation #personalbranding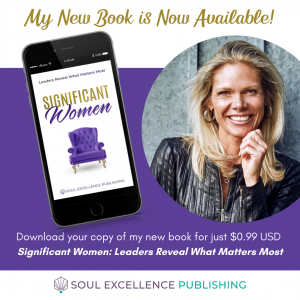 Links to download:
United States (and most countries where a country-specific link is not available):
https://www.amazon.com/dp/B0927YG1FH
Canada:    https://www.amazon.ca/dp/B0927YG1FH
Europe:
UK:         https://www.amazon.co.uk/dp/B0927YG1FH
Germany: https://www.amazon.de/dp/B0927YG1FH
Spain:  https://www.amazon.es/dp/B0927YG1FH
France: https://www.amazon.fr/dp/B0927YG1FH
Netherlands: https://www.amazon.nl/dp/B0927YG1FH
Italy: https://www.amazon.it/dp/B0927YG1FH
Alternatively, on Amazon search for: Significant Women: Leaders Reveal What Matters Most. Significant Women can be purchased on Amazon and read on the Kindle App on all devices, including your browser.
Make sure to subscribe to my newsletter to receive my latest news directly into your inbox. As a big THANK YOU you receive my free Vision guide and meditation audio! Having a clear and meaningful vision is your first step towards becoming your own boss and building your authentic personal brand.
If you are a Brand Lover tune in to my BrandsTalk podcast and learn from brand stories told by my distinguished guests. Listen on
To know more about how I can help your brand shine, book a 30 min intro call or drop me an Email.