It all began with Leadhership Global
Since early this year I have been member of Leadhership Global. An impactful community for unstoppable and extraordinary women in the world, connecting in a confidential, supportive and private manner. I love that community as it brings us all together, helps us learn from each other and grow in an incredible way. On a weekly ZOOM event I met Deb Gabor, a brand expert and founder and CEO of Sol Marketing, whom I share the passion for brands with.
Recently, I was invited to her show Brand New World to discuss the importance of understanding your customers, especially in the global landscape.
I so much enjoyed discussing about global brands and where branding comes from with Deb! Tune in and listen for yourself!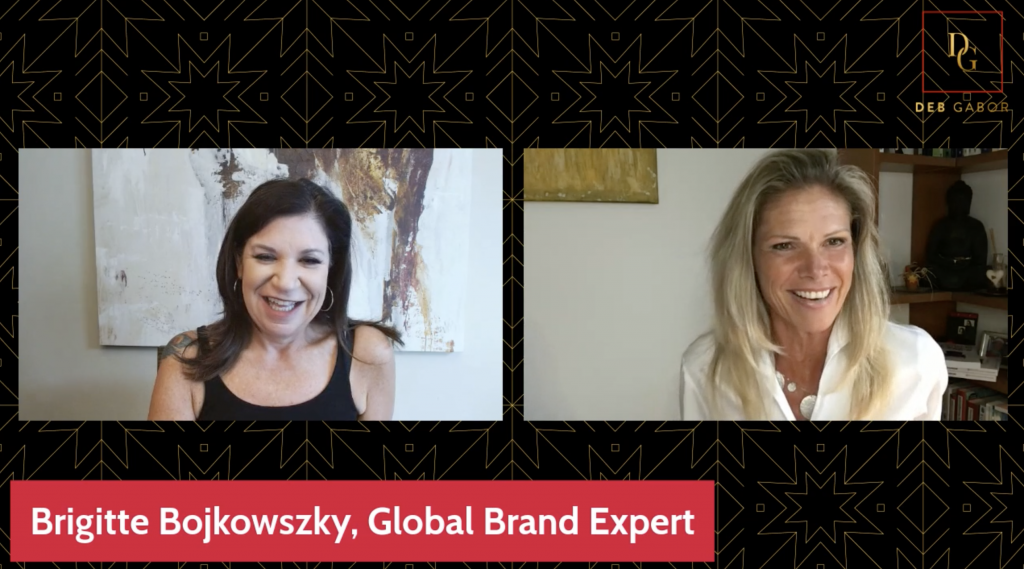 We touched upon companies failing to understand customers in markets abroad outside of their home market:
One of the examples was Target in Canada. You would think what could be such a problem for Target to cross borders and not be successful in Canada? In fact it not only failed on its product strategy such as product dimensions where stated in inches and not in centimetres, the wrong currency was used and so forth but it was the unmanageable deadlines they had to meet at the beginning of the expansion and a disastrous not functioning IT system that brought this internationalization venture to fail. The whole supply chain broke down as the data quality and data loading were riddled with flaws. As a result the whole distribution system was not functioning and costumers were faced with empty shelves, their brands just were not sitting there. Moreover, the point-of-sales system was malfunctioning in terms of incorrect change at self-checkouts, incorrect pricing and break down of cash terminals. Canadian customers who had known the Target brand for so long, fell in love with, and eventually could visit a store by not crossing borders, where hugely disappointed.
Two examples of brands that took a more imperialistic approach by assuming customers in Asia have the same tastes as Americans learnt otherwise. An assumption that resulted in huge failure for both Oreo in China and Kellogg's in India. Both companies turned around and eventually became very successful in these markets. However only after realizing that they have to first do their homework by understanding customers' minds, getting into their hearts and adapt their marketing strategies accordingly.
Worth to mention are successful expansions into culturally, economically diverse and distant markets:
One of the many successful examples that are out there to learn from is Colgate in China and India. They did a fantastic job from the beginning. Colgate was even considered a synonym for toothpaste in the Indian market. Consumers literally asked for Colgate rather than a tube of toothpaste. A good example for a brand being used as a synonym for a category.
In a nutshell, when you grow your brand globally and you enter culturally diverse markets have an answer to:
How can your brand be meaningful to your potential customers in that particular market? Think of what does your brand need in order to be relevant?

 

What needs to be localized in order to get your customer interested in and purchase your brand and, most of all, make your customer loyal to your brand?
What image do you want to create in your customers' mind and what feelings do you want to evoke when they think of and experience your brand? What is it?
Branding doesn't come from a company, organization or institution. Branding comes from customers, members, whom they serve. Brands need to get into their customers' hearts to feel and into their heads to understand their needs, wants, and desires.
My own personal journey & my next launch – Digital Personal Branding course
Moreover, I talked a little bit about my background, my time as a flight attendant and how this job impacted my life journey until now.  I also gave a quick glimpse about my new project in the pipeline, my digital course on personal branding I am going to launch this coming September! My course titles: "Own your brilliance – Make your brand shine! Become your own boss and claim your power. Unlock your full potential and build your brand with confidence and clarity." A course that I have created for boxed-in corporates, who are feeling unhappy, fraught with self-doubt and fear of failing, who want to be confident and crystal clear in their path to becoming their own boss, thereby unleashing their true unapologetically authentic personal brand. This course will help everyone who signs up to live the life they have not allowed themselves for the many reasons but deserve! You can sign up on the waiting list to be the first to learn more!
Book recommendations
Deb Gabor is also the author of two bestsellers 'Branding is Sex' and 'Irrational Loyalty', which I highly recommend. They should be on everyone's book shelf. Two books about her perspective on branding written with a twist of humor, which I really love.
If you are a Brand Lover tune in to my BrandsTalk podcast and learn from brand stories told by my distinguished guests. Listen on