BRANDSTALK #76
Amy Throw
EXECUTIVE LEADERSHIP COACH
✨"You can't lead other people, you can't lead organisations, if you are not socially and emotionally intelligent and self aware."💫
Have you ever heard the term 'appropriate authenticity'? 
I didn't but had a vague idea of what it was.
In this podcast episode Amy Throw, executive presence & leadership coach, author, speaker, and award-winning entrepreneur clarifies the meaning of it.
Basically, it means that when stepping into a senior-level role then you're the leader and in doing so you need to have 'appropriate authenticity'. You set the tone. Thereby it is important to be authentic and vulnerable, but show your scars, not your wounds.
Tune in to our conversation and learn more about the meaning of 'appropriate authenticity' and how important it is in entering the room where it happens.
💡Furthermore, Amy shares her wisdom of
what executive presence and a personal brand mean to her
what the three most important ingredients are to be our best self: appearance (outer/inner), self-reflection, and courage
the term relationship-based sales
the three most common pitfalls to avoid when it comes to selling
💡Amy also gives us some key branding essentials to consider when starting our own business.
✨"Brands: The internal characteristics of the brand are more important than the external."💫
Amy is a certified John Maxwell Leadership coach, speaker, author, and facilitator with a background in organizational development, leadership, sales, and executive image. With her guidance, women transform into the powerful, influential leaders they were born to be. She helps them successfully navigate the shift from self-focused to others-focused, tactical to strategic, and manager to leader.
Watch us: 📹 https://youtu.be/JJeIoxG1i14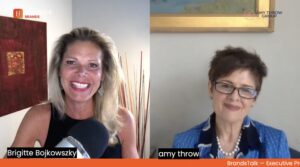 Get in touch with Amy Throw:
🔸if you like my show please follow🔸tell a friend🔸leave a review🔸DM me🔸Would love to hear from you🔸
To know more about how I can help make your brand shine and bring the brilliance out of you, book a 30 min intro call or drop me an Email.