BRANDSTALK #35
SVEND HOLLENSEN
ASSOCIATE PROFESSOR
INTERNATIONAL MARKETING
🔸 "Storytelling will be even more important in future for creating worldwide brands" 🔸

— Svend Hollensen
Meet the distinguished Professor Svend Hollensen, who has been teaching in the area of Global Marketing for more than 27 years and has been a renowned author of world wide relevant textbooks!
In this conversation I had the pleasure to not only dive deep into global marketing and how he experienced COVID and the takeaways for us living and working in the global sphere but also ask him about his personal background, him being a thought leader and a strong personal brand. He also shares with us why it is important for leaders and company owners to be cognizant of personal branding. Moreover, he provides best practice advice on brand building key essentials for entrepreneurs. Lastly, he gives some insights about his latest project, an article he co-authored "Relationship Building in IoT Platform Models".
Svend Hollensen is professor of international marketing at the University of Southern Denmark. He is the owner of Hollensen ApS, a consultancy and international market research company consulting multinational corporations as well as global organizations like the World Bank. He is a renowned author of world class text books in the field of global marketing such as Global Marketing and Marketing Management. Furthermore, he regularly publishes articles in recognized journals. I personally have been teaching successfully with his text books and article publications at universities for almost 20 years. His specialty areas are: Global Marketing, International Marketing, Marketing, Relationship Marketing, International Strategic Alliances, Value Chain, Customer Value, International Market Selection, Entry Modes, and Marketing Planning.
Connect with Svend Hollensen:
LinkedIn: https://www.linkedin.com/in/hollensen/
personal website sdu
personal website
email: svend@sam.sdu.dk
book links: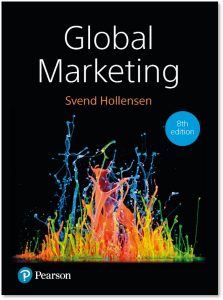 article link: Relationship Building in IoT Platform Models
🔸🔸🔸
🔸if you like my show please follow🔸tell a friend🔸leave a review🔸DM me🔸Would love to hear from you🔸