✨"If you really want to know yourself, start by writing a book."💫 – Shereen El Feki
Have you ever thought about writing a book? 📙✍️
I never have! Until exactly one year ago.
I can literally say I was woken up and pushed into doing so. I will be always thankful to Kayleigh O'Keefe, CEO of Soul Excellence Publishing. She gave me the courage to be part of a multi-author book, hitting number 1 bestselling in 14 different categories on Amazon. Our book "Significant Women: Leaders Reveal What Matters Most" is for ambitious women – and men – who seek to have a big impact on the world while also being true to themselves and their values.
In hindsight, I'm so glad I took this chance, because:
💡For me writing the book was a healing process. My whole life I've struggled with imposter syndrome. I've never felt good enough for anything and anyone. This self-image extremely limited me and kept me away from many of the opportunities life presented me.
💡This encouraged me to contribute with my personal story "My pain became my purpose". In this chapter, I uncover the meaning of my pain, what it is and where it comes from as well as learn how to use it in a positive way. This helped me to find my purpose in life, my north star. It is to shine a light on others, to illuminate the path for them, for my clients, their brands, personal and organizational brands, so they can shine and be in the spotlight. This is my sweet spot!
💡Putting myself out there in a vulnerable way was a huge part of my personal development and growth. I got to know extraordinary brave women, I've become very close with, where long-term relationships were created. We are here for each other, we help and lift each other up.
✔️ This process helped me to become a better version of myself, ultimately, a better servant to my clients.
Read about the stories and lessons from over twenty accomplished, courageous and inspiring women from around the world.
By getting your copy you make a significant impact. All support Elimu Girls, a program that empowers 'Her' to become community leaders and entrepreneurs ensuring financial freedom, self-worth, and equality.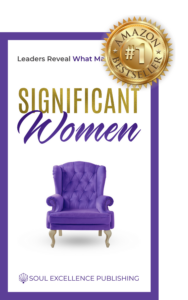 Links to download our book:
🔸🔸🔸
To know more about how I can help make your brand shine and bring the brilliance out of you, book a 30 min intro call or drop me an Email.
If you are a Brand Lover tune in to my BrandsTalk podcast and learn from brand stories told by my distinguished guests. Listen on