BRANDSTALK #54
Linda Fisk
FOUNDER | CEO
LEADHERSHIP GLOBAL
✨ "Brands: intentional, purposeful communication of principles " 💫 — Linda Fisk
Bringing two or more brands together for a special offer or promotion can be an incredibly powerful way to harness the buying power of their brands' target audiences. With this in mind, brand partnerships, respectively, co-branding can be a strong tool to create a tie between the brands that are great on their own, but excellent together. Brands must remain authentic thereby living by their values and goals they want to achieve that are aligned with their vision and mission. Crucial to make such brand partnerships work is the fit of their underlying value systems and the goals they are striving for.
💡My valued and distinguished guest, Linda Fisk, Founder and CEO of LeadHERship Global, talks about the power of brand partnerships, leveraging combined strengths, trust, brand awareness, and market demographics to create upward momentum for sales.
💡Linda also tells her brand story of founding LeadHERship Global, a community of unstoppable women enhancing their leadership blueprint and embracing their power to be the best version of themselves in work and life.
💡Furthermore, Linda shares with us her perspective on personal branding and why it plays such a vital role in business. Linda also reveals a major personal learning experience, which became a major strength in her life.
💡Last but not least, Linda gives branding advice for corporates who want to become their own boss, start their own brand, build their own personal brand.
 📹Watch us on: https://youtu.be/LJED2IG4Tjc
Get in touch with Linda Fisk:
https://facebook.com/leadhershipglobal  
https://twitter.com/leadhershipglob   
https://instagram.com/leadhershipglobal  
https://linkedin.com/company/leadhershipglobal
Book Significant Women: Leaders reveal what matters most: This Amazon bestseller is a co-production of Linda Fisk, myself and twenty other unstoppable, accomplished, courageous and inspiring women from around the world. A book for ambitious women – and men – who seek to have a big impact on the world while also being true to themselves and their values.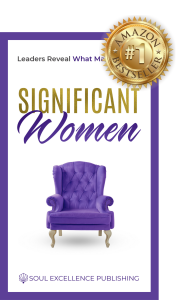 Tune in to The LeadHERship Global podcast. A podcast for — and about — unstoppable women stepping into courage, self-love and feminine leadership. Where we can overhear confidential, unfiltered conversations between the world's most influential and inspirational women.
🔸if you like my show please follow🔸tell a friend🔸leave a review🔸DM me🔸Would love to hear from you🔸
Online branding course "Own Your Brilliance" – Make your brand shine. Become your own boss. Get on the waitlist and be the first one notified when doors open for enrollment again.
To know more about how I can help make your brand shine and bring the brilliance out of you, book a 30 min intro call or drop me an Email.