BRANDSTALK #85
Brigitte Bojkowszky
at OFFSITEDIRT.COM
hosted by AUDREE GRUBESIC
✨"An employee is only happy, productive, and healthy and can be at its best when both, the employee's and the organization's value sets align."💫
Earlier this month I was a guest at OffSiteDirt.com, a media and event company that showcases all current events, techniques, and technology influence, hosted by Audree Grubesic, founder of OffSiteDirt. 
Our conversation circles around the importance of aligning personal brands in the context of organizational brands and why this matters for organizations to thrive.
✨"It's really about creating a culture in which we share the same value system."💫
The focus is on:
💡What is a brand and why it is important for companies and individuals to create a brand?
A brand is not an option, it is essential to compete for long-term in the marketplace. The question is whether you want to be a commodity, one more of the same that is out there in the market, or a brand, that is relevant to be considered, distinctive to be superior, that creates value and satisfies, that is credible.
💡What are the 4 steps to start the process of creating a personal brand?
Craft your VISION. What legacy do you want to leave behind?
Be inspired by your WHY. Know your WHY, your purpose. What impact do you make?
Get into the right MINDSET. That means you only can shine bright if you have overcome your limiting beliefs to do so. Many people are their best-kept secret. They cannot shine because they are holding themselves back.
Stick to your VALUES. Define the fundamental core values you want to live by that establish your sense of purpose.
💡The potential of brand alignment: why are personal brands important for an organization's success?
The company can only be as good as its people/as its employees/workers are. 
If employees know who they are, and how they relate to and with others if they know their value, and how they can be at their best, then the company is at its best, and the company is a strong brand. It's about uncovering the best-kept secret, shining a light on, or putting a spotlight on the strengths, uniqueness, and singular thing each individual can bring to the company. Being of value inspires! If employees are inspired and motivated and have a purpose that is aligned with the company's overall purpose, then the company will thrive. 
💡Facts supporting the importance of personal brands in the context of organizations
Brand messages/posts shared by employees on social media have 561% more reach than when the company brand posts the message
Social media posts by employees are reshared 24 x more frequently than when shared by companies.

 

82% of people surveyed are more likely to trust a company when its senior executives are active on social media
77% of consumers are more likely to buy when the CEO of the company uses social media
💡Current branding strategies
Capitalize on unified values
Have a compelling brand story to tell
Show consistency in unified messaging: the alignment of your corporate brand and your employee brand (each individual personal brand) in messaging
✨"It's about the human beings behind all these big brands. They all have these stories to tell, and that's how we connect."💫
Watch us: 📹 https://youtu.be/e0t0otDagPk
At OffSiteDirt it is all about this form of construction that encompasses everything from offsite, whether it be volumetric, modular, or panelization technology. Moreover, it's about education and how we can learn more and build our businesses to a better place so that we can be more efficient and more effective. Offsite dirt has a two-prong mission to inform the construction industry and the general public about the intricacies of what's currently happening in this fast-paced, growing offsite construction field.
📹 Watch us on OffSiteDirt: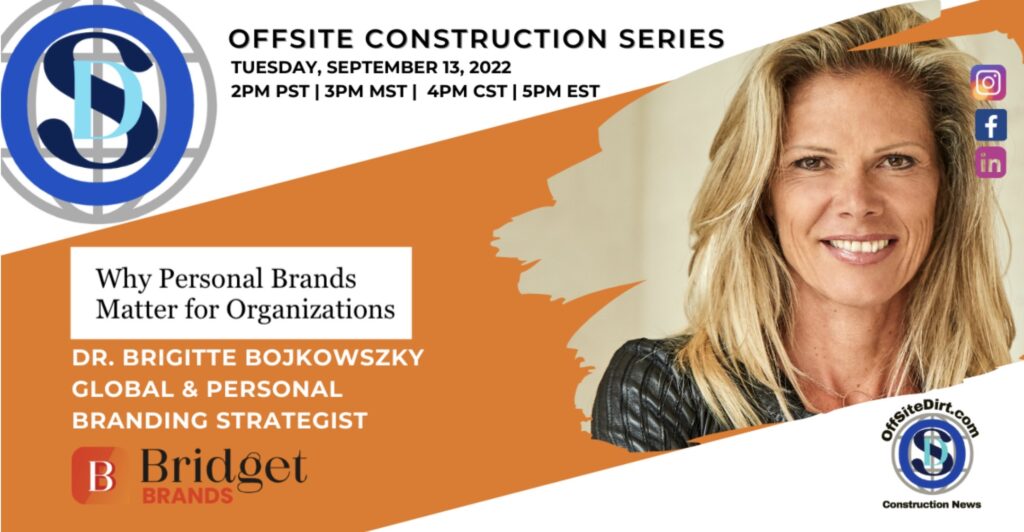 Audree is the Founder & CEO of Modular Sure Site, an Off-Site construction consulting company, offering services for residential and commercial projects. She has first-hand experience in construction and project management on site of their projects. Over the past 20+ years, she has excelled in marketing, sales, new business development, and homebuilding. Her goal is to build relationships with clients, subcontractors, and vendors and create processes to streamline procedures on modular commercial and residential projects. She believes there are always areas to improve the modular construction process, create a positive work culture, automate systems, continue learning and collaborate with technology-driven services. Being a women-owned business in construction and managing projects on-site has allowed Audree to communicate plainly with her clients about the build process, and construction details and to make them feel at ease for future site-work questions.
Get in touch with Audree Grubesic:
🔸if you like my show please follow🔸tell a friend🔸leave a review🔸DM me🔸Would love to hear from you🔸